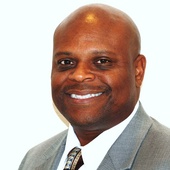 Today, I'm pleased to bring you our first edition of Virtual Results Client Q&A. I get asked quite often by our current clients what other agents using our websites that work are doing to drive traffic, and starting this series is one way to help connect our clients with each other and share learnings. First up is Durrell Thomas, who can be found at AtSanMarcosHomes.com. Durrell is as driven as they come. I've hung out with him a few times down in Southern California, and his thirst for knowledge is undeniable. While he knows he doesn't know everything (yet), he's invested heavily in learning and using the technology tools at his disposal.
The following are a few questions he answered via email; there are certainly some great ideas he's shared for you to implement as part of your overall marketing strategy.
Q: First of all, I know you recently went independent and opened your own brokerage. What led you to going that route?
2009 National Association REALTORS Convention in San Diego is where the seed was planted to open a local Real Estate Brokerage. During one of the break out sessions Sherry Chris was talking about the Brokerage of the future. It felt like she was talking to me. Over the last year and half, I have been mentored and nurtured by some of the best people on the planet.
BIG Thanks to everyone who touched my life: San Marcos Real Estate Company is a seedling in the real world of real estate. Once again I am having fun in real estate hanging out with family, friends giving and sharing. The difference this time is pride of ownerships. I am Proud to be a REALTOR, Broker, local business owner. Live work and Play in San Marcos, man that feels so good say.
Q: Why did you choose WordPress as your website platform of choice?
During the 2009 National Association REALTORS Convention in San Diego I met this guy at one of the after hour real estate sessions. You know the ones, where science is dropped all over the place and by morning you wonder dude where do I start? I quote "Do not be a silo of information share what you know to the world" I said how? He said WordPress. Than he went on explaining the why and how super fast. My head was spinning. In the morning I remembered share all, use wordpress. That person was "Jim Marks".
Why I continue to use wordpress is because it is easy to use, no phone calls to make if you want to change the theme, or layout or add a page or menu item. No secret computer language to make a change or add content.
Q: How has the Virtual Results Predesigned Websites that Work platform worked thus far for your new brokerage?
That's an unfair question. You guys at Virtual Results gave me a brand new race car to test drive on the Google racetrack. I found the gas pedal, and a bunch of switches – so far so good.
On Content: With the trifecta of real estate information all packaged under one hood this site can puts out tons of content. Trifecta includes Diverse IDXpress no I frame here. able to make a property page for each listing. Altos Research with answers the question how's the market and where is the market going. and Market Snapshot which answers the question what's your home worth and what did my neighbor house sell for?
Now this trifecta of information can be sliced, diced and purred than shared in a wordpress blog post /page.
On Performance: When you handed me the keys to the site you gave me the standard disclosure, It will take six month or so before you see any traffic or ranking, something about the Google sandbox and learning curve of the desktop controls of the wordpress site. Did not want to wait six months so I hit the gas pedal and figured I would learn about the controls along the way. RANKING in 3 months
Every week I am learning something new about the control panel, which helps the performance of the site. This is all valuable information to understand so when I bring in a professional mechanic to start turning the wrench on this beautiful machine watch out!
Q: I know you're on the leading edge in terms of innovating marketing ideas. What are some of the things you're doing online that are working in terms of putting you in front of more potential clients?
Right now just the basics, Good content that is keyword focused, Daily syndication of blog post and pages. Sign up and complete three online directories profiles a week. Ping each profile weekly. Commenting on other blogs, only on topics that I enjoy commenting on.
Current page rank for highly competitive keyword San Marcos Homes for Sale :Google 15 : Yahoo 26 : Bing 96:. This ranking bring in 30 visitors a day and two leads which turned into one listing.
We have 28 keywords that we wish to rank for some have no traffic, so we are creating the interest which will bring the traffic.
At the three month mark, Weekly press releases, for 12 weeks. Than re-syndicate the press releases, Local vendor start adding content to site, going forward each month has a loose theme based on related trending topics. Tip look at the grocery store magazine rack for global trending topics
At the six month mark, we will add offset online marketing call to action pages for new business, which will capture people early in the buying cycle. Run local online contests to build the data base for social and professional online hubs. Cross market local merchants past client data base with offer that we will sponsor. opt in marketing. Match online and offline marketing messages to create the interest in the community.
We will also bring a team of talent on board for online asset optimization. Online assets include however not limited to the following; Press Releases, images, video, PDF, Landing pages, Social syndication.
Then wash and repeat for the next group of keywords.
Q: What type of content are you creating that is leading to conversion opportunities?
Due to the age of the site (2 months old), the first year focus is on having a good base of evergreen content. Evergreen content is basic information related to real estate, Escrow, Title, Insurance, Loans, community profiles, etc. With the evergreen post, we will build a 101 series based on the general information and hyper local information ex Homebuying 101 – Buying a new home Santa Fe Hills.
The content that brings traffic is the trending topics from TMZ, OMG,Digg, Twitter, Sunset, Real Simple, Reader Digest, Handy man,and google alerts etc. ex. Digg had a recent hot topic on "New generation of Solar energy" So four post related to Solar energy 1. New homes built on Solar power, 2. Learn how to get your old home solar ready. 3. Why solar will not save you money 4. 5 Extreme Solar homes.
The hook that bring conversion is the "what is in it for me", So we have partnered with local merchant, to offer discounts and coupons on their services, Window replacement, Heating and Air, Local Green Energy company, Moving and storage company. At this stage in the game a lot of offline social faceworking leads to online conversion.
One of my online goal's for 2011 is to cross market with 25 local core businesses that people use who buy my product.
If you want to be the next client highlighted, shoot me an email. You already have the email address…