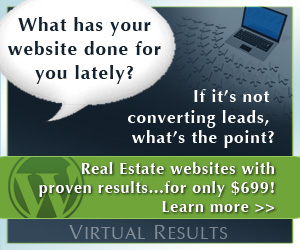 We've been working months and months on our brand new Predesigned Websites that Work platform. If you follow this blog, you know we've been in BETA stage for a couple months. We have about 25 people in our beta program, have worked out the kinks, and are finally ready to remove the BETA tag. We've talked to agents all over the country and the verdict is loud and clear; here's what you've told us you you want in a WordPress real estate website offering:
WordPress: You want your website to be built on WordPress to take advantage of it's ease of use, blogging capability, SEO friendliness, and long term flexibility.
SIMPLE: Above all, you want something that's simple and just WORKS. You don't want to deal with the headache of setting up & customizing WordPress.org on your own. And you want a simple interface to manage your entire site.
Beautiful, professional design: You want to make it clear to buyers and sellers that you are serious about your business. You know first impressions matter, and even more so online than in person because it's so easy for someone to click over to someone else — and never to be "seen" again.
Built with conversion & SEO in mind: You know that if your website is not converting your traffic to leads and clients, then you're missing out. Yes, you want a professional design, but you want a site that generates business and maximizes the chances you'll attract organic SEO traffic if you are putting time and energy into creating unique content.
And last, but not least, you want it to be affordable.
Does this sound like you? If so, we have just the product for you. Our brand new Predesigned Websites that Work wordpress platform. For $699, we handle your website setup and it's up and running within days with zero hassle. It's simple, professionally designed, and built with results in mind. We manage your web presence so you can focus on what you do best — selling real estate. You'll still want to add content to your site to generate traffic and build engagement with your audience, but we take the guesswork out of the setup, design, and activation step. Our predesigned sites have a monthly charge of $99, which covers support, automatic upgrades, security fixes, hosting, dsIDXpress, and Altos Research "lite".
Here are a couple predesigned websites to look at:
Loribee.com – Waxhaw and Charlotte Real Estate
Lori was the absolute FIRST person we signed up for our BETA program back in late November. Her feedback and patience throughout the process has been invaluable to us along the way. Though we had to go through a few iterations of her branding (she recently switched to Allen Tate), we're absolutely thrilled with the way her site turned out.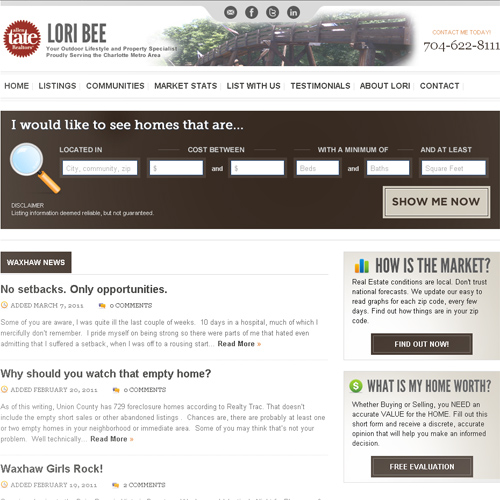 HomeSalesOrangeCounty.com – Laguna Beach and Orange County Real Estate
Amy Mosley & Steve Craig – This was our 2nd signup. I knew Steve and Amy from their time with YouReach Media last spring and summer (at the time, I was working for YouReach part-time). They've been amazingly patient with us over the past few weeks as our first "live" site sitting on an external domain. They have 2,100+ pages indexed on their domain already, which is awesome to see!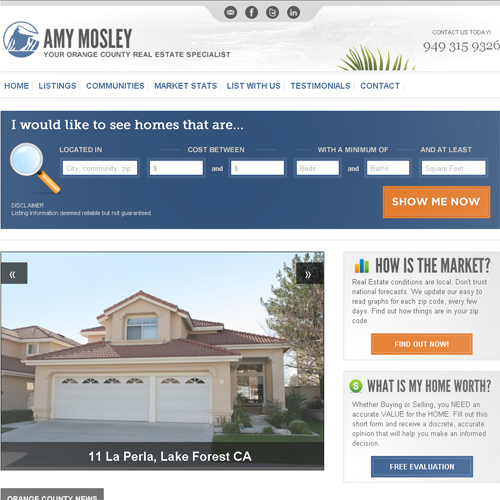 The WordPress theme you see on these two sites, which we've named "Under Pressure" (after the Queen song), is only the first theme on our platform. This theme is currently available in 10 different colors. We'll be adding entirely new themes as we go, and certainly be announcing those new themes here on the VR Blog when they are released. We have a number of additional sites just about ready to unveil, but waiting for a few IDX activations & a bit more content to be added to them before showing them off.
Tech savvy agents KNOW that WordPress is the ONLY option when it comes to a complete blog and website platform. Tech savvy agents also know that when it come to WordPress, there are four options:
WordPress.com – free, but very limited flexibility
Do It Yourself WordPress.org – Frankly, we've really yet to see an agent pull this off and build a PROFESSIONAL looking website on their own. But feel free to try.
Template or Predesigned w/ Customization – price range varies from $500-$3000 depending on level of customization. And if you are dealing with a freelance designer or developer, be prepared to spend a considerable amount of time going back and forth getting the website to look the way you want it to.
Full custom – $5k and above
No one is telling you that you can't learn the ins and outs of setting up and customizing WordPress; you can. But the trade off is your time. You can spend your time learning WordPress, or you can spend your time selling real estate and building your sphere. You decide what's a better use of your time.
If you know Jim Marks or me, you know selling low quality products just to make money doesn't get our juices flowing. We are not here to beat all our competitors with the lowest priced WordPress offering available, we're here to knock your socks off with the best damn real estate sites available anywhere on the web. These websites ARE the best real estate website product available under $1,500. Bar none.
What are you waiting for? SIGN UP for your site here and have a professionally designed blog working & functional by Monday (*IDX approval in some areas may take longer)! You can take a look at our FAQ page and product overview if you want to learn more about the features and benefits of the predesigned websites. If you have questions beyond that, feel free to give us a call at 206-395-6338.
[Formstack id=1038639 viewkey=a7QFL4nvtR]
If you made it this far, you're obviously somewhat interested in upgrading your website in 2011 — and we're going to off you a special reward for reading every last word of this post. Enter the discount code "websitesthatrock" in the form above and you'll receive $25 off the setup cost – for a limited time only.